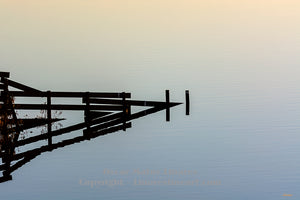 "A Fence" - Landscape Art
Sale price Price $ 60.00 Regular price Unit price / per
About the Image
A Fence is an open-edition image.
Christmas, Florida is a small community located in Orange County, and it is known for its proximity to the St. Johns River. The St. Johns River is the longest river in the state of Florida, spanning approximately 310 miles (500 kilometers) from its source in the Indian River County to its outlet in the Atlantic Ocean.
Given that the image features a fence on the banks of the St. Johns River in Christmas, Florida, it's likely a scene capturing the natural beauty of the area. The river is renowned for its diverse wildlife, including various bird species, alligators, manatees, and fish. The fence might serve as a barrier or boundary, possibly to protect the shoreline or provide access control.
Before you order
As metal print demand has grown, I only offer 7"X10" traditional prints directly from the website with a 11X14 white mat. If you prefer larger traditional print not offered on the website please contact me for pricing via text at 773-315-6842. All prints take at least 2 weeks turnaround time.