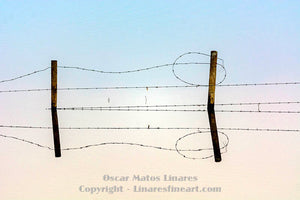 "Farm Edge" - Botanical Art
Sale price Price $ 60.00 Regular price Unit price / per
About the image:

Farm Edge is a limited edition of 250 images.
Farm Edge is a unique scene in Christmas, Florida. The presence of the wire fence and its reflection on the water, creating the image of a woman, adds an intriguing element to the composition. The fence serves a practical purpose, protecting the pasture land where cows graze from potential alligator intrusions.
This image embodies the essence of the rural landscape and the delicate balance between nature and human activity in Florida. The wire fence, with its intertwining patterns, not only serves as a barrier but also becomes a visual element that contributes to the overall aesthetic of the photograph. The reflection on the water adds an artistic touch, creating a dreamlike or surreal quality to the scene and giving viewers a glimpse into the beauty and intricacies of the Florida landscape.
Before you order
As metal print demand has grown, I only offer 7"X10" traditional prints directly from the website with a 11X14 white mat. If you prefer larger traditional print not offered on the website please contact me for pricing via text at 773-315-6842. All prints take at least 2 weeks turnaround time.